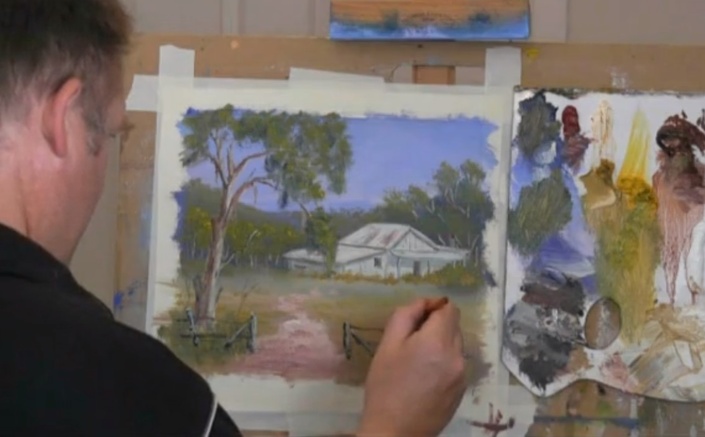 Painting Landscapes Level 1
Painting Landscapes Level 1 is an introductory course exploring some of the basic principles of Landscape Painting designed for any level.
Watch Promo
"PAINTING LANDSCAPES – LEVEL 1″
Discover How Easy It Is To Paint Great Looking
Landscape Paintings Even If You
Are An Absolute Beginner.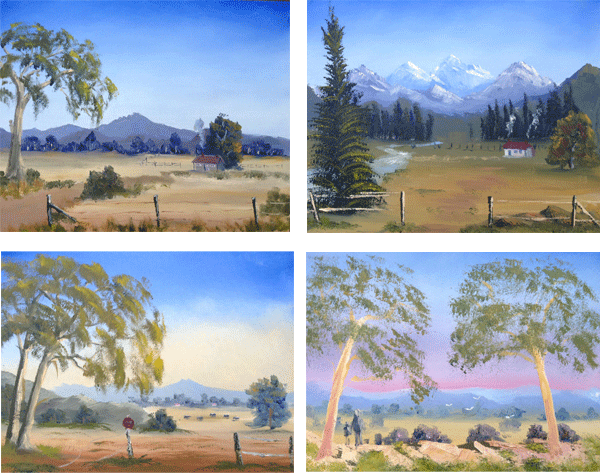 Each week for 6 weeks you will receive one complete lesson that builds on the lesson from the week before. You will watch the videos for that weeks lesson, then using the comprehensive notes provided you will complete the exercises yourself developing your skills as you go. Once you complete each exercise simply take some photos and send them to us for review so we can make sure you are on track with the course.
Note: As we will be providing detailed feedback each week for each of the students over 6 weeks we can only take a maximum of 20 students.
This course is ideal for beginners and even those who have never picked up a brush before. We will explain all you need to know to get started, what art supplies you need including brushes, paints and canvases etc. The course is suitable for both oil painting and acrylics.
Here is what we will be covering over the course of 6 weeks:
Week 1 – Introduction + Skies
We begin with an introduction to landscape painters for beginners. We will discuss the importance of composition and look at the most critical factor of where to place the horizon.
Then we will begin looking at skies. We will start out by painting a simple clear blue sky on a sunny day. Next we will add in some simple but realistic clouds. Finally we will look at how to paint the effect of the setting sun in the sky. (This is a simple technique but has great effects).
Week 2 – Mountains & Hills
In virtually every landscape painting there is going to be mountains and hills of some sort. In week 2 then we will discuss how to create mountains so they look like they are in the distance using aerial perspective. Plus I will share with you the most important thing to know about colour in the landscape that most beginners do not understand which is why their paintings lack depth or realism. Finally we will look at snow covered mountains and how to get the light right on the mountains.
Week 3 – Trees
You can not paint a good landscape without painting trees. So we will look at trees in the distance, the mid ground and the foreground. We will concentrate on simple shapes that are highly effective. We will also discuss how to add volume and dimension to trees so that they look more realistic rather than flat. We will look at using three different values to develop great looking trees. Plus we will look at how to use trees in your landscape to improve your composition.
Week 4 – Buildings, Fences, Paths & Other Elements
When painting landscapes it is the small details you put in that really bring it to life. So we will look at adding in buildings and farmhouses in the distance. Of course around these you will find fences, paths and other elements of human activity. We will even add in some sheep and cows etc to enhance the landscape. These little touches will bring your landscape painting to life and really improve upon your paintings.
Week 5 – Foreground, Rocks, Grasses, Water
Now that we are in week 5 we will focus on the foreground. This is so important to finish off the foreground right yet so many beginners miss these details completely. We will look at rocks, broken tree branches, grasses, water and more. I will show you how important it is to use the right colour temperature in the foreground so that you create depth in a painting. Also we will look at how to lead the viewers eye to where you want it using foreground elements.
By the time you have finished week 5 you will have completed at least four small landscape studies just from doing the exercises given to you.
Week 6 – Paint Your First Landscape
Finally in week 6 I will paint a complete demonstration painting of a typical landscape for you which will pull together all of the elements we have learnt in the previous five weeks. It is important that you understand how each of the previous weeks lessons all work together to form one complete painting. I will give you in depth instruction and then you get to follow along and paint it as well.
Here is the final painting you will complete:
Remember that each step along the way I will be asking you to take photos of your work and send it to me so that I can give you valuable feedback.
At the end of week 6 I will give you some additional landscape painting assignments for you to complete to further enhance your skill and knowledge.
When you complete the course you will receive a certificate of completion of the course that you can hang on your wall next to your paintings.
By the time you complete the 6 week course you will have a solid understanding of how to paint basic landscapes. If you are ready to join us in this online course then choose one of the two options below and reserve your spot.
I can assure you that no matter what your skill level is right now if you follow our week by week instructions, and complete each of the simple exercises, you will improve your painting by the end of the six week course. Our unique method of teaching breaks each step down into simple easy to follow instructions that you just follow along with. If you have always wanted to learn how to paint great landscapes then now is the time to get started.
I look forward to you joining us in this 6 week course.
Happy Painting
Rod Moore
Course Curriculum
Welcome
Available in days
days after you enroll
Module 1 - Skies
Available in days
days after you enroll
Module 2 - Mountains
Available in days
days after you enroll
Your Instructor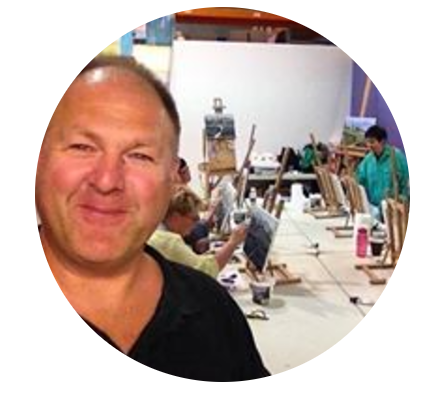 Rod Moore - Artist, Art Teacher, Author, Best Selling Art Instructor
Rod Moore is the founder of Moore Art School and the creator of the Moore Method of Painting. He has taught hundreds of students to paint in his one day workshops and more then 30,000 globally through his online courses on learning to paint.
Living in Noosa, Queensland Rod draws his inspiration from the natural beauty of the amazing coast and beaches he is surrounded by, and the breathtaking beauty of the hinterland region.
Rod is the creator and star of two TV shows, Plein Air Painting TV and Yes You Can Paint both 13 episodes. The TV shows have been broadcast around Australia and New Zealand and have been extremely popular with those wanting to learn to paint.
Every week Rod publishes the popular Learn To Paint TV show online. The weekly show demonstrates a complete painting. The full length version is available to members of the Learn To Paint Academy.
He is a full time artist. art teacher and author. His passion is for helping beginners enjoy the magic in learning how to paint and today he is on a mission to help millions of people around the world to experience the joy of painting.
Connect with Rod here:
- Facebook - Learn To Paint Academy
- Facebook - Rod Moore Art
- YouTube
- Instagram
- Learn To Paint Academy
- Learn To Paint TV
- Learn To Paint Blog
- Become An Art Teacher
Frequently Asked Questions
When does the course start and finish?
The course starts now and never ends! It is a completely self-paced online course - you decide when you start and when you finish.
How long do I have access to the course?
How does lifetime access sound? After enrolling, you have unlimited access to this course for as long as you like - across any and all devices you own.
What if I am unhappy with the course?
We would never want you to be unhappy! If you are unsatisfied with your purchase, contact us in the first 30 days and we will give you a full refund.