"PAINTING SEASCAPES – LEVEL 2″
Take Your Seascape Painting To The Next Level.
If you love painting seascapes and you are ready to take your seascape painting to the next level then this is the course for you.
Over the course of 6 weeks we will be breaking down how to paint realistic seascapes into a step-by-step process at a more advanced level. Each step in painting a seascape will be explained to you through video in great detail. You simply follow along and complete the exercises and by the end of the 6 weeks you will know exactly what you need to know to get started painting the seascapes you love.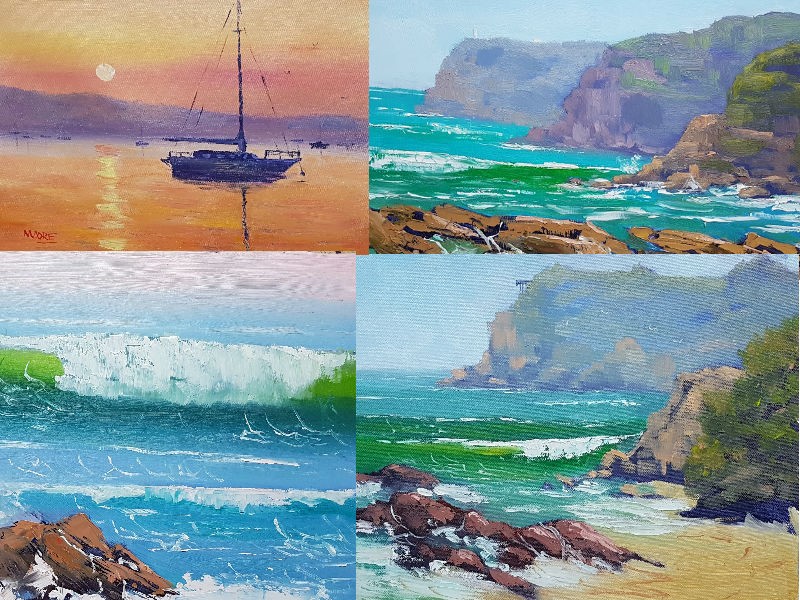 Here is what we will be covering over the course of 6 weeks:
Week 1 – Simple Seascape With Rolling Waves
We begin with painting a simple seascape scene with rolling waves. This will give us the opportunity to explore our palette for the course and understand some of the basics of painting great looking seascapes. We will be laying the foundations upon which to build in later lessons.
Week 2 – Wave Study
In week 2 we will be taking a detailed look at painting waves. It is important that you understand the anatomy of a wave and the various elements you need to include. This week we will be doing a wave study however the skills you learn can then be transferred into more complete seascape paintings in the future.
Week 3 – Cliffs & Rocks
One of the most important aspects of seascapes that bring life and drama to our seascape paintings is the ability to be able to effectively paint cliffs and rocks. The key here is understanding light and dark and how to use them effectively. So this week we will paint the cliffs and rocks of Anglesea beach which is on the Great Ocean Road in Victoria.
Week 4 – Headlands
A key feature of a good landscape is often headlands or a serious of headlands. This week we will focus on placing a number of headlands into your seascape painting and ensuring they have the correct aerial perspective in them. This will ensure your painting has depth and atmosphere to it. We will also explore the use of sea mist and spray to further enhance the sense of atmosphere.
Week 5 – Headland With Lighthouse
Now that we are in week 5 we will focus on adding man made objects to your seascape such as lighthouses and buildings. We will do a painting of the Point Londale lighthouse in Victoria with the sun lighting up one side of the lighthouse and catching on the rocks of the cliff. By the time you reach this stage you will be developing great skills in painting seascapes.
Week 6 – Inlets & Sunsets
For a change of pace we will look at painting an inlet which is so often a feature of seascape paintings. We will add to the interest by painting in a dramatic sunset with its variety of colours in the sky.
You will learn how to paint these two paintings as part of the course:
"Coolum Surf Beach"
"Cape Otway Lighthouse"
I can assure you that if you follow our week by week instructions, and complete each of the simple exercises, you will improve your painting by the end of the six week course. Our unique method of teaching breaks each step down into simple easy to follow instructions that you just follow along with. If you have always wanted to learn how to paint great seascapes then now is the time to get started.